Shape Up 2015 : Exercises in Materials Geometry and Topology
We're still accepting abstracts for what shapes up to be an exciting international conference  on real-world materials, dead and alive, with complex spatial microstructures. An interdisciplinary discussion meeting on patterns and geometry, and their role in biological and synthetic microstructured materials and tissue. We invite contributions from biology, chemistry, materials science, mathematics, physics and related fields addressing the genesis, properties and function of complex nano-scale geometries, as well as underlying geometric and topological concepts for the study of complex structure and shape. More information can be found on www.shape-up.academy. See you in Berlin!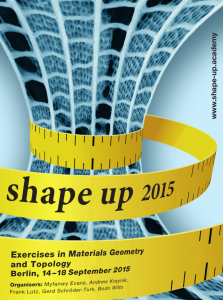 Invited speakers include
Simon Čopar
Herbert Edelsbrunner (IST Austria)
Karsten Große-Brauckmann (TU Darmstadt)
Jemal Guven (U Nacional Autónoma de México)
Stephen Hyde (ANU)
Motoko Kotani (Tohoku U)
Rob Kusner (UMass Amherst)
Jeremy Mason (Boğaziçi U)
Sabetta Matsumoto (Harvard U)
Konstantin Mischaikow (Rutgers U)
Piotr Pieranski (U Poznan)
James Sethian (UC Berkeley)
Ullrich Steiner (Adolphe Merkle Institute)
John M. Sullivan (TU Berlin)
Adam Squires (U Reading)
Salvatore Torquato (U Princeton)
Silvia Vignolini (U Cambridge)
Here's a link to the hi-res pdf version of the poster.